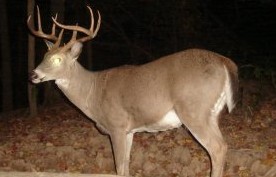 (Simply a fiction story of my overactive imagination…)
Fredrick was a small town that was originated by two gay frontiersmen named Fred and Rick back in the 1800's.  Nothing really happened in the town.  It had developed into the #6 retirement community in the the entire south due to the proliferation of antique stores and the town shut down at 8 p.m. daily with the exception of the Polish bar that kept open till midnight.  Oh, what a wild town it was.
When my wife told me that we were going to Fredrick, I thought that there would be something interesting for a thirtysomething couple to do.
"We're not here to do anything really, except shopping for the children for me, and you get to rest," Allison said as my mouth dropped.
"Wait a minute dear.  We had a deal."
"The deal was over when you had a heart attack at 34.  You get to follow the doctors diet, you get to rest in the country and if this week goes well you get to go back to your internet job and heart attack causing lifestyle"
"But," I knew I was doomed.
"No, you don't."
"Fine," the words I said when I knew that I was doomed.  I had a plan, get away when she slept like a freight train.
Yeah, about that.  We were staying in her parents house 5 miles from the main strip of Fredrick. And when I mean strip, I mean one street that if you moseyed a block over you were surrounded by bed and breakfasts and grumpy old people who hadn't had enough prune juice in their life.
So the first night, I snuck out at 1 A.M. thinking that I had plenty of time till last call.
I pushed the car down the gravel driveway until it was far away from the house for me to start it up.  I headed down the two lane highway that lead into town to find it deserted.  I walked up to the bar and thinking that maybe it was just a slow night, but how wrong I was.
"Sorry son, Denial county rules say all alcoholic beverages must be served drank no later than midnight. So you can head back home. And by the way Daniel, give my best to your wonderful wife and I won't tell her that you tried to get a drink when I see her next," said Sheriff Stone laughing.
I drove back home angrier than ever.
I tried to get onto the family computer but trying to suffer through dial up was completely beyond me.  I tried everything to find some connection that my wireless could pick up but I was in the middle of NOWHERE! There was not a wireless hot spot in the town, not even in the only three star hotel.
"Sorry son, we just don't have a reason to have it here.  You can head up to Austin if you need it bad enough," was the excuse that I got.
I was in my own personal hell.
I got back into bed and looked at my wife.
"Did you say hi to Sheriff Stone for me honey," Allison said as she laughed while turning to hold me?
"I hate this place.  I love you, but I just don't like you now."
"Just give it a shot dear."
"Shoot me, hell, I'll just borrow your dad's gun."
"No, dear.  Let me hold you and you can try something new tomorrow," she said as she fell asleep holding my shoulder.
I didn't sleep much that night.  It was quiet.
Too quiet.
The next couple of days were a blur, Allison shopping, me being pack mule and drug around to every shop that I could imagine in hell:
A store that had nothing but cat stuff, including ceramic waving cats, which always freaks me out.
A store that had every sports teams gear, cept my favorite team, reason why … "no one really likes them down here".
We went to a store that had antique guns, but no bullets.
Oh and don't get me started on the store that sold nothing but antique doll clothes.
The best that I could do was just resign to the fact that the next couple of days would drive me nuts.
However, the  final night changed the entire way I think of Fredrick.
I was sitting on the porch that had surrounded my in-laws house enjoying a pipe of vanilla tobacco when it walked up to me.
Now, everyone in town talked about the 18 point buck.
It was a legend in the entire county, no one had ever seen the beast that it was.  All the hunters had tried to shoot at it and thought to have failed.  It was huge and had the scars that would terrify any child.  Bambi, this was not.
I didn't move and stopped even puffing on the pipe as it came closer.
The chair that I was sitting on was on the edge of the porch closest to a large area of grass that I was supposed to mow before we left on Sunday.   And I looked back to find my gun, hell even my father in laws gun to shoot it. I would be the hero of Denial. But I forgot that my gun was in my car and my father in laws was in the gun case locked up because of the last time I came to Denial.  I was in such a hurry to shoot a buck off the porch like my father in law that I forgot about the recoil and I kinda launched myself through a plate glass window.  The family nicknamed me "Secret Service" because of it. I had to find a way to let everyone see that I could either kill it, or hell take a picture of it.
The buck came closer and my heart felt like it was going to beat out of my chest.  It slowly moved and started eating something on the ground in between my chair. I slowly tried to move and it immediately jerked up.
I could feel the snorting and snot flying from the nose of the beast. I took a puff of my pipe again and it went back to work eating while I slowly took my phone out so I could take at least a picture of it.
I tried to block the sound out when it took but the noise was just enough.  The buck sprang onto the porch and came closer and closer to me.  I backed up more and more until I was at the door of the house.
As I tried to open the door in the dark the buck came closer until it launched into the air at me.  I heard a loud noise and I blacked out.
I came to in the hospital room with scratches and bruises everywhere and I had a couple broken bones.
"You're a lucky man, not many people have come that close to an 18 point buck without proper equipment and survived sir," said the nurse to me.
I tried to get her attention and she finally got my message to bring my phone to me.
I wanted to show her the picture of the buck, but as I scrolled through I found that I only took a picture of the bucks ass and a good portion of my left thumb.
Stupid camera phone.
Stupid buck.
When I got home weeks later my wife had a surprise for me.
"Just keep your eyes closed hun until we get into your office."
"What's the big deal? You refile everything while I was gone again dear?"
"Shut up and keep your eyes closed."
"Fine," I said knowing that she had something up her sleeve.
"Okay open them," she said with a laugh.
Now of all the things I wanted in my office, the list included naked playmates, stacks of unmarked cash, hell even the lack of bills would make me happy, I wasn't expecting to see it hanging on my wall.
"There you go honey, you'll never forget that moment again."
On my wall was the eighteen point buck head, with a plaque that read:
To my darling husband
who didn't flinch much when
I shot the eighteen point
on our porch.

BTW, we named the Buck Dollar

Love, your wife.
I knew I'd be renicknamed Dollar when I got back to Fredrick again.
But this time Allison, I'll have my weapon near me and I'd only stare at the stars with you next to me.
And I promise I won't leave the bed after you are asleep ever again.
Now can you please change the dressing on my ear. I can still hear ringing.